Ben really got himself into a giant pickle by telling both JoJo & Lauren that he is in love with them. The best part? Both girls think they are totally on the same page and have nothing to worry about. How exactly do you fall in love with two people? Is it really possible for your feelings for them to be EXACTLY the same as Ben says? I tend to think not. I've never been on a reality dating show but what I do know from real life is that there is only space in your heart to love one person fully (shout out to Mr. Fresh Fit Fab!). To love them fully is to give them your best, your absolute all each and every day. You keep their best interests in mind. You think about them before making any decision. You can only love one person that much. Try doing that for two people. It's not possible. That's why when people cheat the mistress usually gets the shit end of the stick. Think about it.
Ben had to bring both ladies to meet the parents. He hoped that Mommy & Daddy would be able to help Ben sort through his feelings and guide his decision. If you had to take a shot of vodka each time Ben said he loved both women, you would have been in the hospital after 20 minutes. Lauren & JoJo both successfully put on the dog & pony show for Ben's parents, hoping for their approval & endorsement. Lauren was very poised and polished however, I didn't feel that she truly connected with Ben's parents. She seemed a little shy and introverted which in turn did not allow her personality to shine through. JoJo was much more open and outgoing towards Ben's parents, being very direct with how she feels and addressing any concerns they may have had upfront. I think this was what helped to win her over with Ben's mom who showed her support for JoJo. Ben's mom & Jojo definitely connected on a deeper level than when Lauren visited. However both parents told Ben that both picks were spot on and no matter who he chose they would feel disappointment towards losing the other. This was essentially no help to Ben at all who stressed that his heart is split evenly and neither of them had any input to sway him in either direction.
The final dates are heavy and dramatic. The decision is looming over Ben's head like a black cloud and he's not sure how he will give up either one of the women. I spent 90% of the episode cringing each time Ben told the girls he loved them…and trust me, there were many times. I get it if you want to say it once or twice but stop beating a dead horse. With each profession of love, Ben was making it worse. You could tell he had a lot on his mind and could not get fully involved with Lauren or JoJo on either date. His choice was clearly weighing on his mind. One thing I appreciate about JoJo is her realness and honesty. Lauren didn't put herself out there as much. She knew Ben was acting strangely in their alone time and he shed some light on his feelings of confusion and being unsure; saying that he questioned his feelings inital intensity. Not a good sign for Lauren. But, he never admitted to her his true feelings towards the JoJo. He failed to confess that yes, he was in love with her as well and had told her the same things he told Lauren. Meanwhile, JoJo got down to the core of Ben's weirdness that night and he told her the truth & confirmed her fears- he was in love with Lauren too. These dates left the once confident women leaving completely unsure and questioning their status with Ben.
Next up, comes the monumental moment where Ben picks a ring from Neil Lane. Up to this point, Ben was still unsure of his choice. How could you not have a specific woman in mind when choosing a ring? Both women have completely different styles and personalities. However, clarity "all of a sudden" seemed to come to Ben when he decided on a style of diamond. Maybe with the pressure on, Ben all of a sudden envisioned who he truly saw wearing that ring. He must have realized there was not truly room for two in his heart.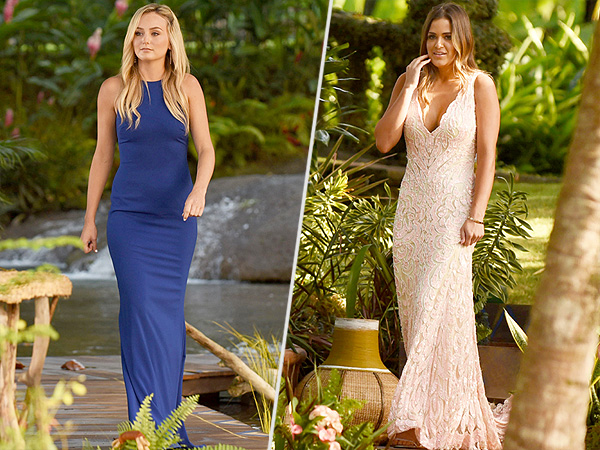 It comes time for Ben to propose and he has decided that even though he loves both women– there is one that he loves more. He needs to move forward with this woman in order to fully love her and be committed to her. His feelings for the other had made him unsure and question his desire to propose. Who is the mystery woman who gets the let down? Jojo, which was my prediction from the beginning. Ben & Lauren always had this untouchable connection even though I felt his relationship was deeper with Jojo. After her speech about being ready to take the plunge with him, Ben dumps her as he tells her he loves Lauren more. "I found love with you-but I found it with someone else more." Ouch. There's no way to ease the blow. She's left confused and blindsided and who could blame her? The day before Ben was showering her with 'I love you's'. He said she was his best friend and that he couldn't live without her. I would feel blindsided too. How do you say those things to someone that you're not fully committed to? Come on Bennn what were you thinking? This is why there are the 'rules' imposed by the Bachelor Nation. She's pissed and tells him 'It's fine'. AKA the statement of girls everywhere when things are anything but fine. A destroyed Jojo says that she wishes she could hate him but she can't. There is nothing worse than wanting to hate someone so much but the feelings in your heart won't allow you to.
Ben now seems confident in his decision with Lauren. He calls Lauren's dad to ask for her hand in marriage which was a nice traditional move that we normally miss out on during the show. Lauren B comes in next and looks she's about to vomit. She might as well have been green in the face. However, she had nothing to nervous about. Lauren tells Ben "You're my person." After a 10 second delay where I was convinced Lauren would puke on her shoes, Ben eased her doubts as soon when he assured her she was the one and he proposed. They truly are a good fit. Both cute and both slightly boring but with just enough excitement to keep themselves occupied. Jojo's breakup was painful to watch but she deserve's someone who will fully love her back. She has such a strong personality and an open heart. She will find someone that deserves her. Perhaps as the Bachelorette…?
On After the Final Rose, Jojo & Ben face each other for the first time. The bad blood seems to have dissipated. Watching the season back gave Jojo clarity as she saw how much of a connection him & Lauren really since the beginning. It helped her to see how hard the breakup was for Ben and made her feel like she wasn't the only one who was alone. Watching back helped her cope with her feelings. I give her credit. She handles seeing him on stage with complete grace. It takes a strong woman to do that. If I was either Lauren or JoJo, I would be pretty pissed if I watched the season back. He played them both with his feelings and even until the last second could not decide. I would be uncomfortable with knowing that my fiancé wasn't sure about me 10 minutes before he proposed.
Well, Jojo got her karma when they announced her to be this season's Bachelorette! She will get a second chance at finding love. JoJo, you will be fine. Now you will be the one running the show. Rumor has it that there was a swift change in the decision for the Bachelorette this week. JoJo got the gig and they shipped Caila off to Bachelor in Paradise in stead. I have a feeling that this might have had to do by the outrage of Bachelor Nation at thought of having to watch Caila weed through suitors. Sorry Caila- better luck next time! BIP is a serious downgrade.
Chris Harrison has decided to surprise Ben with a live TV wedding. However, Ben & Lauren respectfully declined in order to have a more 'traditional' wedding. Glad to see Ben is keeping his dignity in tact. It is revealed that Ben did disclose with Lauren after the engagement all that went on behind closed doors at the taping. Lauren & Ben have seemed to move past this and are happily engaged and looking forward to getting married soon. They look happier than ever. I hope all the stress and tears is worth it for them in the end and they get their happily ever after! Mainly so she can keep that Neil Lane rock……